Kinwa Bluesky is Bear Clan and Anishinaabe from the Sandy Lake First Nation and Kitigan Zibi Anishinaabeg. She comes with sacred feet, and now lives softly on the unceded, traditional territory, and homelands of the xʷməθkʷəy̓əm People.
Professionally, Kinwa is an Indigenous legal advocate who is committed to implementing equitable law, governance, and rights through social justice, Indigenous, and human rights-based research initiatives. At HELP, she is the Senior Manager of Indigenous Initiatives with the support of other HELP faculty and staff, and under the leadership of the Aboriginal Steering Committee (ASC)
This month, we sat down with Bluesky to learn more about her journey to HELP, her current research as a PhD candidate with the University of Victoria's Faculty of Law, as well as her hopes for Indigenous families and children, both in BC and beyond.
---
What led you to your role at HELP?
First of all, I am a single mom of three teens (aged 15, 16, and 17), who are Anishinaabe and Nuu-chah-nulth. I have nicknamed these Anishinaa-nulths The Force. They have always had a power in their own right. When they were young, I started advocating for Indigenous children and youth in my organizational and government relations consulting work. This previous work included the implementation of Jordan's Principle — substantive equality for First Nation, Inuit, and Métis children — for the First Nations Health Authority. This advocacy work in Indigenous children's health is ultimately what brought me to HELP!
In your work, what is most important to you?
I believe that population level research about Indigenous children's social and emotional health and wellbeing is key to strengthening the health of our communities — it informs all actions needed to empower self-determination. In this space, we can all agree that we are committed to First Nations, Inuit, and Métis children's health and wellbeing, and driving this knowledge, awareness, and understanding forward is paramount. If our children can't grow up healthy, then what exactly are we fighting for?
What do you like most about your role at HELP?
I have the privilege of working with the ASC – these individuals are true movers and shakers! I am so honoured to witness ASC members make change in their own work efforts. I hope our work continues to support Indigenous government bodies, Indigenous-led organizations, as well as Indigenous Education Councils in a meaningful way. Our collective efforts contribute to strengthening the supports and services that children, families, and communities ultimately need to thrive.
Can you tell us about your research? What are you currently focusing on in your PhD studies?
I will be defending my doctoral dissertation this year in Law at the University of Victoria. My research focuses on an archival unpublished manuscript from the early 1900s that my great-grandmother Wàbàdikwe (White Caribou Woman) contributed to, where she shared traditional Anishinaabeg stories, teachings, and laws intended for a children's book. These traditional children's stories, illustrated using birch bark, still teach us about how to live in a good way — these are our Laws.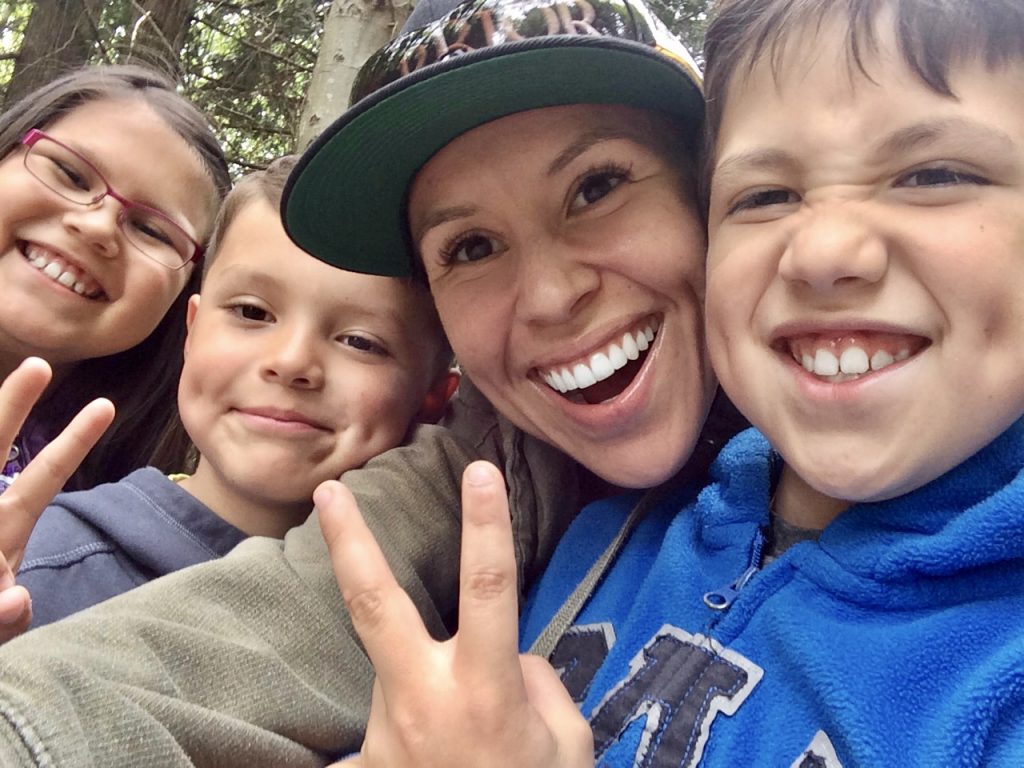 Kinwa & The Force – "They have always had a power in their own right."
What kind of barriers have you faced in your studies? Is there anything that you hope to see more of, in your community?
Honestly, I could write a dissertation on barriers. In the end, I wish more people understood it is never too late to pursue higher education. We are all lifetime learners! We tend to limit our beliefs about what's possible, especially when it comes to our education. Maybe we didn't get good grades as kids or dropped out of high school — but why let that hold you back now? We all have a right to education. Educational institutions, programming, and funding are becoming more and more accessible. We can now pursue studies remotely while working in our communities, running a business, working full-time, or even while raising a very, very demanding family! Go at your own pace and get it done the best way you know how.
What differences does your research seek for children and families in BC? What kind of change do you hope will exist, 10 years from now?
It is important to acknowledge that there are different systems of learning and teaching children. Indigenous communities have their own Laws that encompass our respective teachings, all of which are taught to children in various ways including through song, stories, and art. I hope that we get to empower these systems of knowledge and Laws for future generations. Our children need to know who they are and where they belong.
What is an area of research that you see as an emerging topic of importance for today's children and society?
I know that we must continue to strengthen how communities build and maintain their sense of identity and belonging for children and youth. Strong Indigenous children can travel the world, and bring their whole beings, languages, and teachings with them. Everywhere they go, they will manifest their Indigeneity into the greater world of Creation. We will all be better for it!